..
..
..


..
..
..


..
..
..
..
..


..
..
..
..


..
..
..
..
..
..
..


..
..
..
Edit this page (last edited November 11, 2005)

---
these are all my models
---
Hobbit Archer
I finally stuck up a new pic.
Uruk Hai
These are my Uruk Hai that I got in Issue 4 of BGIME. Excuse the models with parts mizzing, I got bored and decided to paint them
Sorry that they're a little blurry!
---
Last Alliance Models

My High Elves!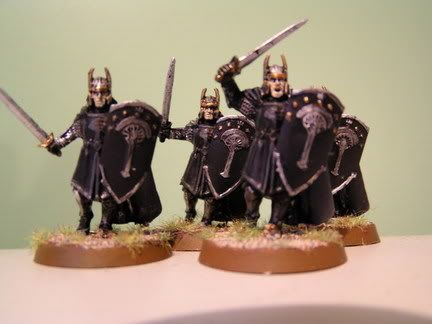 I have FINALLY repainted my numenoreans! I reckon that they look WAY better than the old ones (seen above) .
---
Moria Goblins
The First models I ever did, not very good but, as I said, my first models. From Issue 1 of BGIME.
---
Warriors of Minas Tirith
Warriors of Minas Tirith.
---
Frodo rules
My Frodo from Issue 3 of BGIME. Not very good but it was my third issue.
---
Lurtz
My Lurtz from Issue 5 from BGIME.
---
=== Legolas is my favourite ===
I have repainted my legolas!
---
Warriors of Rohan
My Warriors of Rohan from issue 7.
The one, the only, Aragorn, the King of Gondor!!
By far my favourite mini!!
Mordor Orcs
The orcs of mordor!
Faramir, Captain of Gondor
Faramir!
The Knights of Minas Tirith
Saruman the White
Ugluk, Uruk-Hai Captain
Captain of Minas Tirith
I decided to give my captain gold lining for his armour and I think it was very rewarding, the main thing i dont like about this mini is his mouth...
Minas Tirith Standard Bearer
Grishnakh, Orc Captain
Eomer, Marshall of the Riddermark
Hasharin
Balin's Tomb Stand
My Balin's Tomb Stand I got from the BGi ME subscription which I then unsubsribed to becuase of De Agostini with their poor service
Comments
Koo-l. Nice pics, even if they r a little blurry. BTW, ur frodos Sting needs to be pushed a li into plce. I am getting a digi camera hired next week, and will take some pics and make my own mini gallery, and every1 can see my horribly painted miantures lol. If it wasn;t so blurry, wuld look better, but theres nuttin u can do about that really, is there? Neix J
---
thanx, ill fix up mi frodo & ill use mi dads digi cam 2 do da pics nxt time. King Of Gondor
---
Yeh, its just that Frodo looks like his about to poke his own eye out
Yeh, I had to do the same thing when i dropped Aragorn, who looked like he was about to behead himself, and Legolas, whos bow was a bit crooked. Neix J
---
I just got legolas 2day so ill put that up soon
I've nearly finished my Warriors of Rohan also, so both warriors of Rohan and Legolas will b up soon. King Of Gondor
---
Cool Neix J
---
Firstly, you can bend metal models back, and secondly, where do you live? You said on my page( which has some MINT articles) that you were on issue 7,I'm on issue 35! I pity you. UGLUK1000
---
I've bent my frodo's sting back already but need to borrow my dads camera because my one's really bad focus. And im in New Zealand and we only started them in February!! -King Of Gondor
---
I have my Legolas from Issue 8 of bgime and i have taken another picture of my frodo with his sting bent back in place. Enjoy. -King Of Gondor
---
Isn't it great to get comments from other users? BTW, I cannot see your Legolas and Frodo pics. Are they hosted on the same site as the other ones? Neix J
---
Is that better? -King Of Gondor
---
Oh, and UGLUK1000 , is the Uruk Hai captain on issue 9 worth it?? -King Of Gondor
---
Sorry, last post must not have worked
I still cant see Legolas and Frodo. Perhaps put them all on Photo Bucket??? Neix J
---
I have put in a better Legolas pic and some Warriors of Rohan! -King Of Gondor
---
Sigh. I still cant see Frodo. Neix J
---
Argh!!!! -King Of Gondor
---
Why don't you just put them all on Photo Bucket? The reason I can't see Frodo is cause he is on Free Hostultra. BTW, your words that where supposed to be under Legolas where under Warriors of Rohan, which I fixed up for you... Unless you wnated it that way. If you do, just change it back, or roll my change back and *sniffs* delete my post. Neix J
---
Well... I'm not quite sure why frodo isn't showing up because some others aren't and they're on photobucket but some others that r on photobucket do work... -King Of Gondor
---
Everyone look at my Balin's Tomb Stand thing! I hope this was a good place to put it but i don't think it really fitted into both miniature or terrain galleries... -King Of Gondor
---
Perhaps a "the only good thing about DeAgostoni? gallery" would suffice? Neix J
---
Maybe -King Of Gondor
---
The Balins Tomb Stand looks great though.... It will look even better when the Fellowship is on it. Neix J
---
sure will -King Of Gondor
---
Kog, (King Of Gondor) have you been able to get ish 10 yet? My newsagency is having problems ordering it, and I wanna find out who wins the battle report (not really, but it would be nice) Neix J
---
Close finish with victory to the Good side (Darron Bowley). I got issue 10 Thurs. last week. -The Precious
---
I thought that would be most likely to happen Neix J
---
Neix J, I'm not actually getting ish 10 and I didn't get ish 8 either, because I'm trying to save money collecting Gondor, and ish 10 only comes out tomorrow here. -KOG (King Of Gondor)
---
I think you mean you didn't get issue nine, cause if you didn't get eight, how the heck did ya get Legolas? Neix J
---
That is what i meant but how the hell did that hapen? I didn't write it like that!! And I did get ish 8!! -KOG (King Of Gondor)
---
Sure you did.... Neix J
---
Try taking pics outside in the morning Saruman
---
Man, you have a lot of Warriors of MT. Neix J
---
Yeah, you've got as many Wo MT as I've got Moria Goblins. -Lord Aragorn Elessar671
---
I have added Aragorn the King and Mordor Orcs! -King Of Gondor
---
Your Models Are Really Cool! - Captain_Of_Gondor?
---
Ah, good to see you finally have a picture of Aragorn the King up. Nice paint job, and as you know I completely agree about it being a great model. I like the paint jobs you've given your Mordor orcs -Lord Aragorn Elessar671
---
Thanks, i used your painting guide for my aragorn
-King Of Gondor
---
Yay! All Hail King Of Gondor
Your Aragorn, Faramir and ur Knight r supoib Neix J
---
i love your knights of minas tirith Prince Imrahil
---
Thanx
-King Of Gondor
---
Saw my friends Balin Tomb stand today... these things are a lot bigger than your photos led me to beleive. Neix J
---
I thought of u to be older, but I am new to this site so i woudnt know.But good paintings!!!! Crazy Canuck
---
Not to diss your Tolkien Knowledge, but its actuall Numenoreans. I dont think thats spelt right X} Neix J
---
Yeah i couldn't remember how to spell it. -King Of Gondor
---
I learnt all that stuff when I read the History of Gondor in The Seige of Gondor Supplement rules XP Neix J
---
When Will You Be Getting More Pics?! -Captain Of Gondor
---
I will when I get saruman next week and i am trying to repaint my elves at the moment - i have already done 2. -King Of Gondor
---
My Saurman currently sits upon the top of Compthnak, looking down at his orcish minimons, the keys XP Neix J
---
Your New Saruman & Numoreans Are Great! I Can't Wait to See Your Repainted Elves! -Captain Of Gondor
---
The Gold Lining Looks VERY Effective!!! Great Work!!! -Captain Of Gondor
---
Thanks, I have uploaded my Minas Tirith Standard Bearer! -King Of Gondor
---
They all look great, but I reckon you went a bit over board with Ugluks skin... its supposed to be a lil bit of blue... I didn't do any, I reckon he looks better normal. Neix J
---
Your Grishnakh looks good -Eomer
---
Thanks
-King Of Gondor
---
Eomer looks great! When did you paint him? -RangerOfTheNorth?
---
Yesterday -King Of Gondor
---
I look great??? lol - Eomer
---
AH! How could you do that to Legolas? Nah, J/K Its not to bad, but the hair looks a bit wired. Neix J
---
Your Harashin is AWESOME!!! Your painting skills are improving dramatically! Well done! -Captain Of Gondor
---
Added better pic of Eomer. -King Of Gondor
---
I love the borders. I would do that to my pictures, but I need to get a photo editor. -Baruk Khazad
---
Nice archer Ko G. But man, you dont have to do them in the same color scheme as they do in the pics <.< Neix J
---
Just for my first lot
-Ko G
---
I like your 1st pic of the rohan warriors as it looked like they were in a charge -Ug'luking ARAGORN Patrick squires's aragorn he rules and he is finnally mine. he has beaten every opposer WHAHOO NO ONE WILL WIN WITH ARAGORN ON THE LOOSE!

 MY ARAGORN

ARGORN RULES!