..
..
..


..
..
..


..
..
..
..
..


..
..
..
..


..
..
..
..
..
..
..


..
..
..
Edit this page (last edited May 12, 2005)

---
Us (King Of Gondor & Captain Of Gondor) Have Decided to Make A New Logo for the Front Page of LOTR WIKI. If You Want to Enter Simply Make A Banner and Post It On this Board! Include Username and Picture of Banner!
---
Logos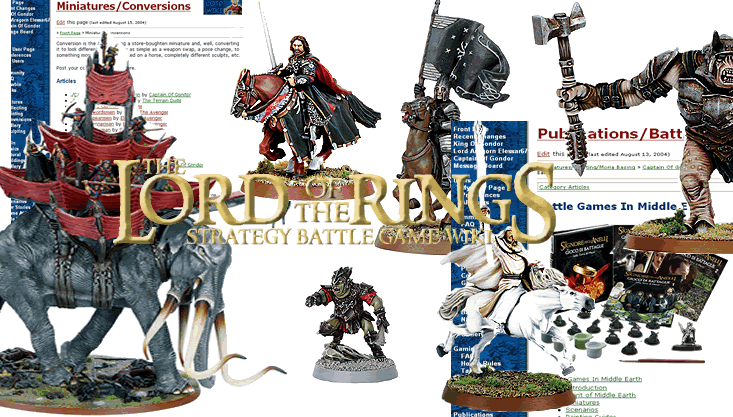 -King Of Gondor
---
-King Of Gondor
---
The top one is way too busy and large, you can't even see the text and takes forever to come down on my poor dial-up connection. The second one is a lot cleaner, though there may be problems with copyright issues (Games Workshop might not liking us taking their logo). What's wrong with the current logo? -Shnar Gru
---
Actually, this is OK because i used a font called 'Ringbearer' and put in some effects using Macromedia Fireworks. So, I made it myself and didn't copy it. I also prefer the second one aswell for the same reason. Also, I talk a lot to some of the other members on MSN messenger and a couple of them have actually made their own logos for it. -King Of Gondor
---
We have? -Lord Aragorn Elessar671
---
If you guys change the main banner does that mean we'll need more of the 'little ones' in the corners of every page? What software did you use to make that text? The Terrain Dude
---
We got that font from a website. The fonts called ringbearer! -Captain_Of_Gondor?
---
Yes, and then I changes the colour and put in some 3D stuff. -King Of Gondor
---
As far as copyright laws are concerned, it's not just the font but the way the fonts are used and placed that make New Line's and Games Workshop's logo unique. We are definately infringing on said laws with that logo. On the other hand, we're infringing on a lot of laws just in this site in general, but since it's all in the advancement of the hobby, no one truly cares. My main problem with the logo is that "wiki" is not very prominent in the logo. I'd alter it to make the Wiki larger. It's our "brand" after all... As for the little logo in the corner, that's one of the few areas on this site that's "hardcoded", that is to say that only I control and would have to alter the site code to change it. If the site in general comes to a concensus, I'll add any new logos into the script that randomly chooses which image to display. Just make it the same size (and I like the blue-ish color, fits with the side bar). -Shnar Gru
---
I agree with the blue, i could put it in the background but I do like the idea of having a ramdom logo change for the Front Page. I will also make the 'Wiki' bigger or I might get rid of the 'Strategy Battle Game' in the text. -King Of Gondor
---
I take credit for finding the ringearer font :). It was actually on Ebob's old site. Oh, yeah, time for my 2 cents on the whole new logo thing. I think that the current one is fine. Also i think that a little banner sort of thing somewhere on the front page with pictures of member painted models would be pretty kool. then again that could be complicated, and the best idea really is to K.I.S. (Keep it simple) and leave more room for articles and so on. There, that's my 2 cents, -Lord Aragorn Elessar671
---
Shnar Gru, Don't you think we should as a gaming community vote for or against the new logo's??It's just a sugesstion.I don't know how you'd do it though.Maybe you should make a chart.
---
Dunno either
I think you'd probably just do what you've done here, just make a list and whomever likes the old puts their name in that section, and whomever likes the new puts it in the new section, like this:
---
Old:
Shnar Gru : I don't see any reason really to change, and a bit worried that it looks too much like the official game (that's where Games Workshop would step in)
---
New:
Shnar Gru : I like the look of the proposed logo, using the same font as the official game
---
On a final note on the image looking too official, Games Workshop does make it clear on their userguidelines for fan websites that the website needs to make it clear that this is not an officially sanctioned Games Workshop site, that there's no affiliation, etc. With the old logo, it's pretty clear. With the new logo, there might be some confusion... -Shnar Gru
---
-Citadel Guard