..
..
..


..
..
..


..
..
..
..
..


..
..
..
..


..
..
..
..
..
..
..


..
..
..
Edit this page (last edited October 5, 2006)

---
Category Users
---
G'day....You might have guessed I'm Aussie. New to LOTR tabletop gaming, but not new to the hobby in general, although I had been out of it for the best part of 15 years (mid high school in the late 80's). Obviously that makes me over 30. I'm more into the scenery and painting than the actual war game side of the hobby.
---
About Me
I'm from Albury, which is a large country town on the border of New South Wales and Victoria (states in Australia for those who care). My other main interests, which draw me away from war-gaming, are 4WDriving and remote control aircraft and cars, mostly aircraft. This is a hobby that can suck a lot of time and money, however I found / find it to be very satisfying. I'm also a keen shooter / hunter, and have a good collection of firearms. I really enjoy spotlight shooting for vermin such as foxes and feral cats. Basically I'm a big kid who doesn't want to grow up. My partner both loves and hates this, as she is a school teacher. As yet we are not married and have no kids, only room for this one at this stage. A few years ago I decided my job as a tour bus driver really wasn't going anywhere, so I decided on a life change and started a university degree in IT. I have since finished my degree and graduated in April 2006 although I did finish all the required work almost 12 months prior to this.
Contact Me
Drop me a line E-mail: clink@tpg.com.au.com

Galleries
Some of my work to date.
Articles
Painting
Tools
My Reviews
---
Other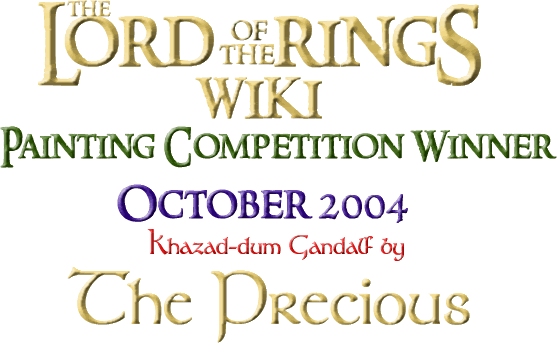 ---
My Quick Links
Comments
Comment Archives
The Precious/Archive/Comments/20040625 Archive upto 25th June. Put your comments / questions here. Thanks.
-The Precious Thats weird, I swear I changed the ? to manchester a while ago? Did you change it back? Hey, Ukgluk. I had a vandale a while back, and someone was kind enough to go back to an old ver. for me, so that must have been what happened. -The Precious
---
Yeah Someone Did Vandalise Your Site & There Was Nothing On Your Page So I Restored it For You! -Captain Of Gondor
---
Ah, so it was all Capns fault then. Neix J
---
Thanks alot myprecious Mr Mclukus
---
also, how do you upload pictures to a page and how do you make your own page? Mr Mclukus
---
The Precious, I really have to hand it to you, you've done an excellent job and trying to keep this site vandale-free, particularly in my absence. I really appreciate it. I know my activity goes up and down, usually depends on my RL free time, as well as my current RL hobbies (i.e. more Lotr I'm doing, the move active I am here). I just want to thank you for watching over the site as much as you have
-Shnar Gru
---